XWITM Revolutionary Earth Model Building - Better, Faster, Deeper.
Better predictive power. Faster scalable compute. Deeper target depths.
XWI™ is the industry's leading Full Waveform Inversion (FWI) algorithm for earth model building from raw seismic field data and is made available with virtually limitless compute power on Amazon Web Services (AWS). It can be applied flexibly to any appropriate user-uploaded raw dataset, using any number of shots, with any number of iterations and with a variety of optimisation cost function parameterisations for clearer and deeper seismic images aimed at superior subsurface performance defined as:
uncovering new resources

defining drilling paths and optimising well placement

minimising risk and maximising subsurface recovery

Raw Data Full Bandwidth Inversion
The S-Cube XWITM cloud environment is built on a breakthrough non-linear optimisation toolbox for raw exploration seismic data which solves for the best-fit earth 'velocity' model. The computation iteratively adjusts underlying earth model parameters to align numerical simulations with field recordings leveraging the full recorded response of the earth in a data fitting feedback loop which:
simulates the field experiment with a PDE per shot location propagating through an assumed initial guessed solution
computes the cost function misfit between generated predictions and field recordings
performs a steepest descent 'gradient' calculation to determine a search direction
conditions the gradient and updates the model parameters to minimise prediction error
XWITM toolbox - automated velocity model building - core technology
XWITM is regarded as the industry's leading FWI formulation due to:
c

ombining adaptive cost functions (AWI) with reflection based cost functions (RWI), for more accurate model updates extending deeper down

 

gradient conditioning using total-variation based regularisation constraints 

(

CWI

)

 for dealing with highly contrasting geology
multi-parameter macro-model global search methodology (GWI) for deriving anisotropy and other unknowns from scratch
It harnesses the power of data-driven parameter-learning which steers away from false local minimum traps as shown below. 

Cloud Native Architecture - utilising AWS Spot Fleet
With a cloud-native architecture at its core, XWITM is designed to scale to thousands of square kilometres with hundreds of thousands of shots affecting the earth parameter gradient calculation without computational constraint.
A dynamic pool of interruptible Spot instance types is provisioned per job in a VPC and the job scales by bringing the number of shots allocated per worker instance down to one, resulting in the shortest iteration time. 
Furthermore, 100s of scenarios for tuning a given job with GWI can be run simultaneously. As a result, a 100 iteration run which would take several weeks with traditional HPC on a typical on-premises system can be completed in days on the cloud.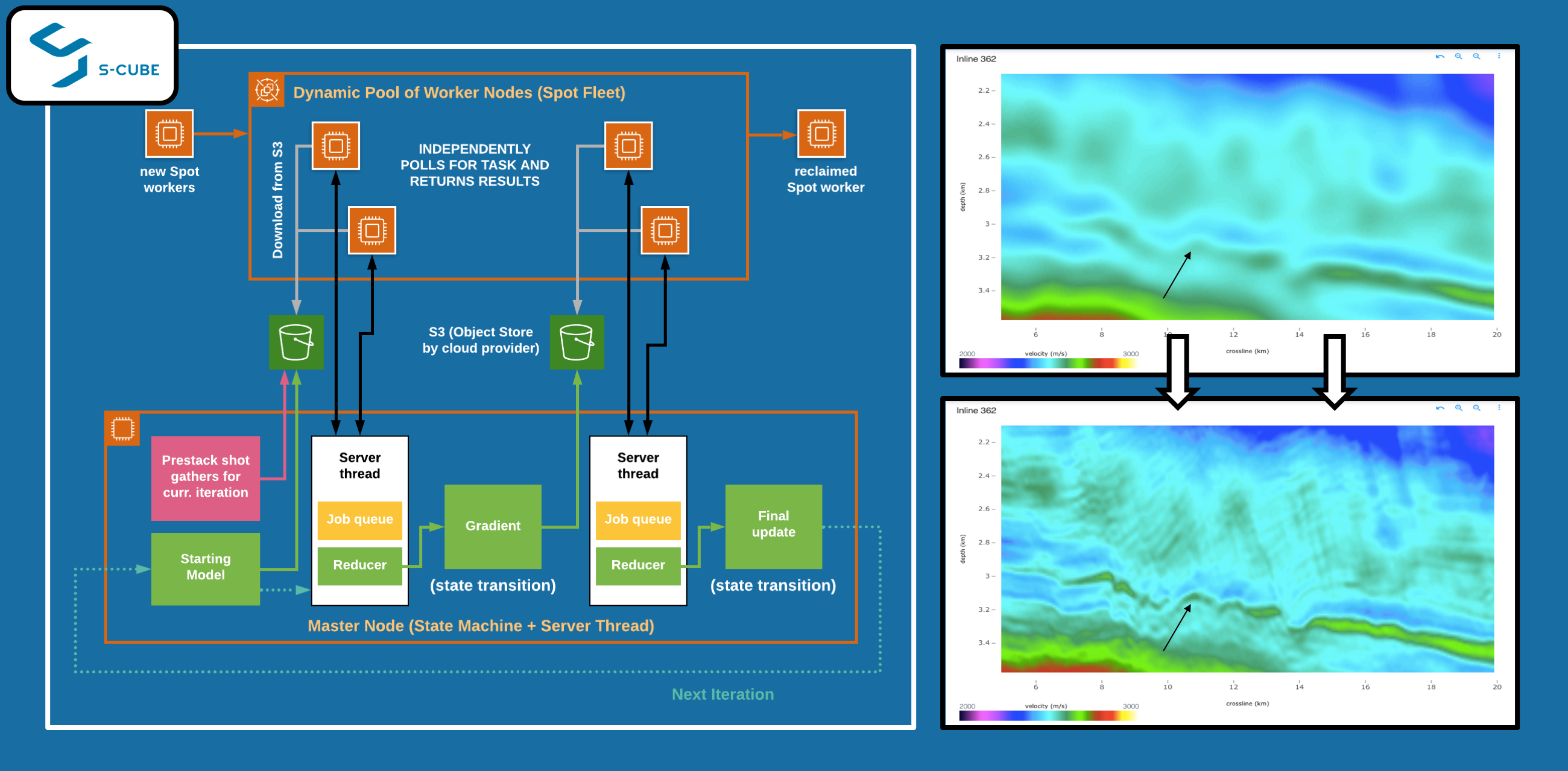 Spot Fleet is spare compute resources which AWS makes available at a heavily discounted rate over on-demand pricing for a given instance type. Run Full Waveform Inversion on the Cloud
Use XWITM on AWS to discover an unprecedented increase in the resolution of your velocity model.