What is XWI?
The XWITM toolkit extends conventional FWI by:
Reformulating the objective function to avert cycle skipping without low frequencies in the field data (AWITM)
Applying regularization to the model update direction for incorporating geological constraints (ATV)
Alternating between long-wavelength and short-wavelength model updates for deeper penetration (RWI)
Adaptive Waveform Inversion is a patented variation of the FWI objective function which enables global minimum convergence from distant initial models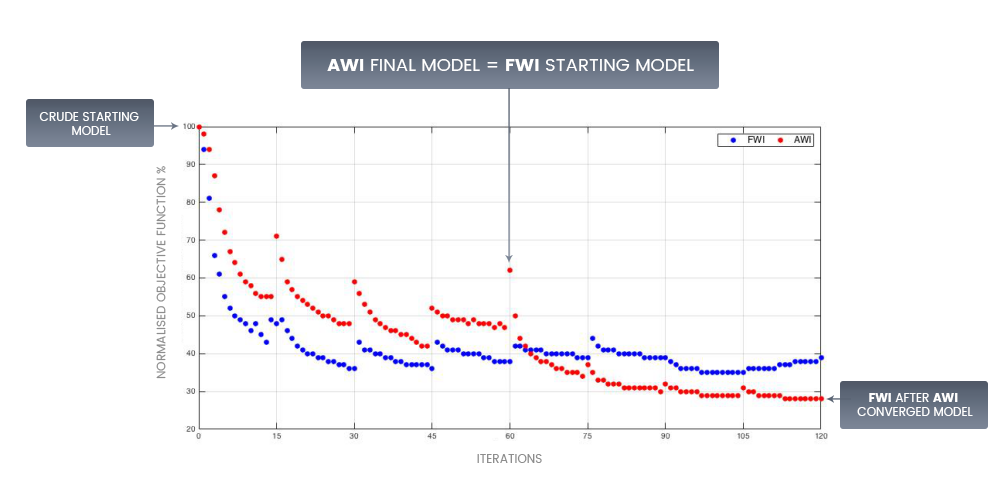 Why use XWITM on the Cloud?
Register for the S-Cube AWS SaaS cluster and access a managed compute environment built for full waveform inversion
Upload your existing job directories directly to the cloud virtual cluster with a few commands
View the computational load per shot and select the number of shots, number of shots per instance and number of iterations of your job
Always deploy the latest installations of XWITM
Monitor and QC the live job on a dashboard accessed via a URL

​
XWITM on the Cloud Example
Number of shots (9 saillines): 5186
Grid size: 25m
Average runtime per shot (16 core instances): 0.15 hours
Number of shots per iteration: 1037
Number of shots per instance: 2
Number of passes through the shots (epochs): 24 Try S-Cube Cloud with your Seismic Data
Zero-management cloud HPC platform configured for seismic velocity optimisation.
Launch a cloud-optimised XWITM cluster in minutes - no need for a supercomputer.