XWITM Revolutionary Earth Model Building - Better, Faster, Deeper.
Better predictive power. Faster scalable compute. Deeper target depths.
S-Cube are developing the industry's leading Full Waveform Inversion (FWI) algorithm for earth model building from raw seismic field data in XWI™. This is made available with virtually limitless compute power on Amazon Web Services (AWS).
It can be applied flexibly to any appropriate user-uploaded raw dataset, using any number of shots, with any number of iterations and with a variety of optimisation cost function parameterisations for clearer and deeper seismic images aimed at superior subsurface performance defined as:
uncovering new resources and storage sites

monitoring around extraction and injection well-bores
increasing strike rates and reducing risk

Raw Data Full Bandwidth Inversion
XWITM consists at its core of a non-linear optimisation toolbox for raw exploration seismic data which solves for the best-fit earth 'velocity' model. The computation iteratively adjusts underlying earth model parameters to align numerical simulations with field recordings leveraging the full recorded response of the earth in a data fitting feedback loop which:
simulates the field experiment with a PDE per shot location propagating through an assumed initial guessed solution
computes the cost function misfit between generated predictions and field recordings
performs a steepest descent 'gradient' calculation to determine a search direction
conditions the gradient and updates the model parameters to minimise prediction error
XWITM components - automated velocity model building - core technology
1. X-Wave enhanced Full Waveform Inversion engine
2. AWI Adaptive Waveform Inversion
3. RWI Reflection Waveform Inversion 
4. CWI Constrained Waveform Inversion 
5. QPSO Quantum Particle Swarm Optimisation
6. RIPSSCI Robust Inter Process Simple Socket Communication Interface
7. MJS Multi Job Submission dashboard 
It harnesses the power of data-driven parameter-learning which steers away from false local minimum traps as shown below. 

Full Set of Capabilities for Raw Data to Final Model in One Algorithm
Majority of the computational workload inside Full Waveform Inversion is performed by a finite-difference based wavefield simulation engine. This computes the forward and backpropagated wavefields needed for repeated simulation and cost function minimisation. In XWITM this is written to use AWS c6g Graviton2 processors for which S-Cube were a selected launch partner. This enhanced FWI engine, with advanced capabilities such as structural-smoothing, is known as X-Wave.
X-Wave is designed to scale to thousands of square kilometres and parallelise over hundreds of thousands of shots without computational constraint. This is made possible through a communication protocol which is robust against interruptions.
S-Cube's novel MPI-free TCP-based-protocol - Robust Inter-Process Simple Socket Communications Interface (RIPSSCI) - was implemented to be part of the XWITM software used to perform the Woodside-AWS 1m core demo.
When running on the cloud, a dynamic pool of interruptible EC2 Spot instance types is provisioned per individual job in a VPC. For the fastest possible iteration speed, only one shot per worker is used. In this example this resulted in iteration times on a 25 meter grid of less than 30 mins.
To surpass the capability of conventional FWI, XWITM uses AWI and RWI cost functions.
Local inversion can be nested within a derivative-free QPSO outer search loop for navigating the misfit landscape, suppressing cross-talk using semi-global multi-parameter inversion (anisotropy, attenuation, elasticity). Multiple Spot Fleets are run simultaneously and as a result, a job which would take several weeks with traditional HPC on a typical on-premises system, can be completed in days on the cloud.
An API-based multi-job submission (MJS) system has been created to support hyperparameter tuning. This is able to fix key unknowns without having to guess values and run blind. An example for fine-tuning accuracy by solving for critical water-bottom parameters is given here.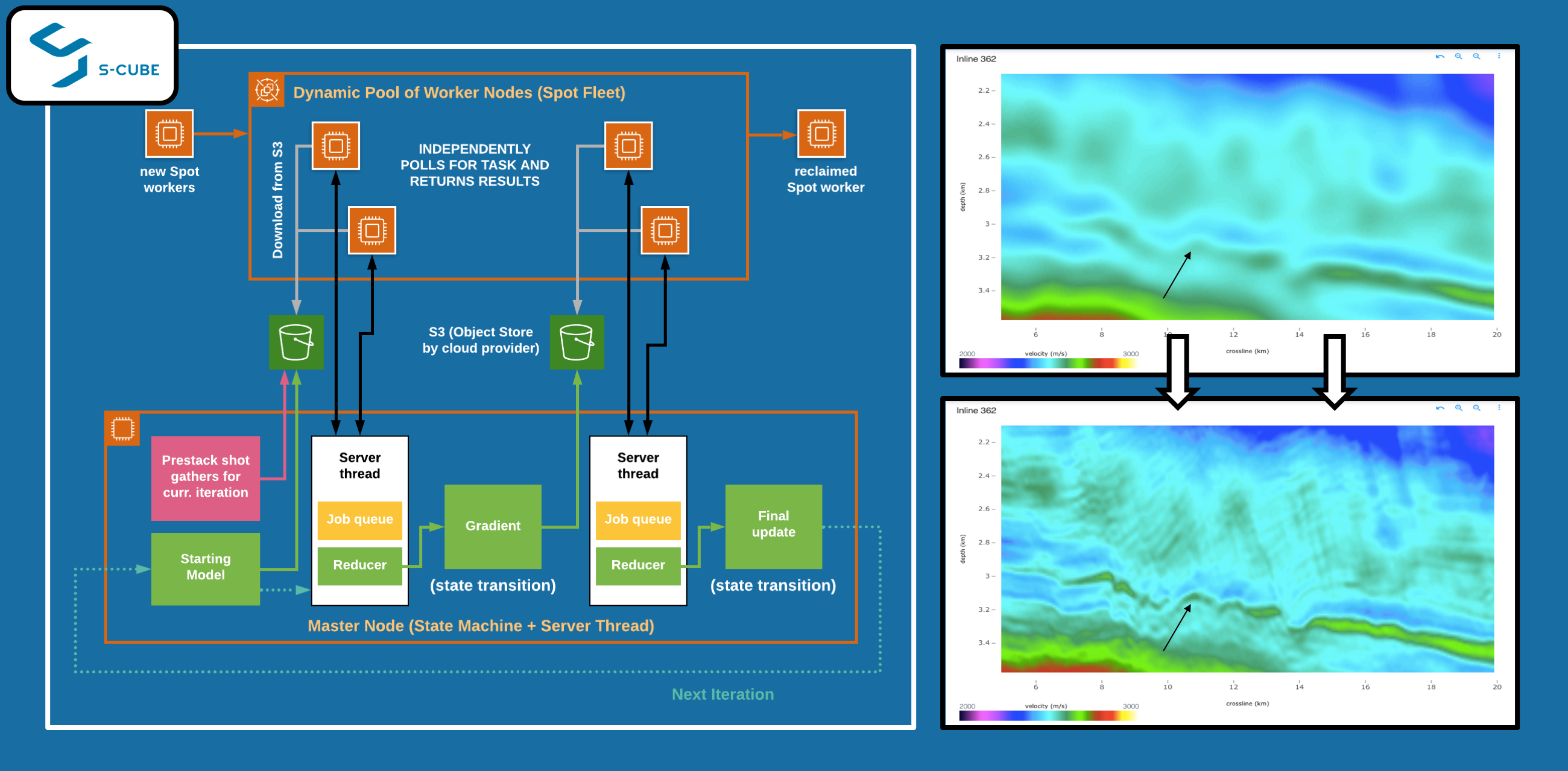 Spot Fleet is spare compute resources which AWS makes available at a heavily discounted rate over on-demand pricing for a given instance type. Run Full Waveform Inversion on the Cloud
Use XWITM on AWS to discover a step change in accuracy and resolution of your velocity model.