3D narrow-azimuth limited-offset streamer survey
The survey is a narrow-azimuth marine streamer acquisition with 8 receiver cables of length 5.5 km. There are 5186 shots in total in the test area with 20% utilised per iterations.
Key objectives:
- Avoid cycle-skipped minimum due to lack of low frequencies
- Avoid diminishing updates below the limited diving wave zone
The raw shot gathers that are input into the process have all free-surface effects retained. No pre-processing is applied to the traces beyond bandpass filtering for progressively widening the frequency range through blocks of iterations. 
With the limited cable length, the model updates need to penetrate below the reach of the diving waves for broadband velocity recovery at the target depth.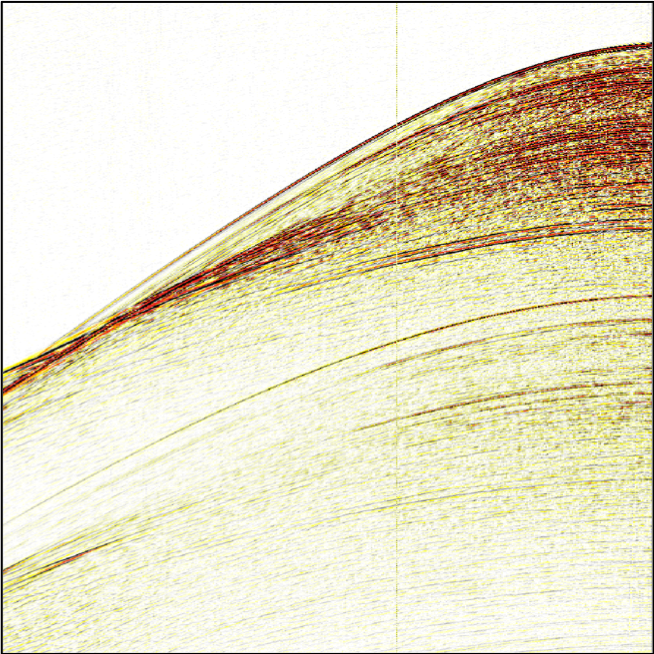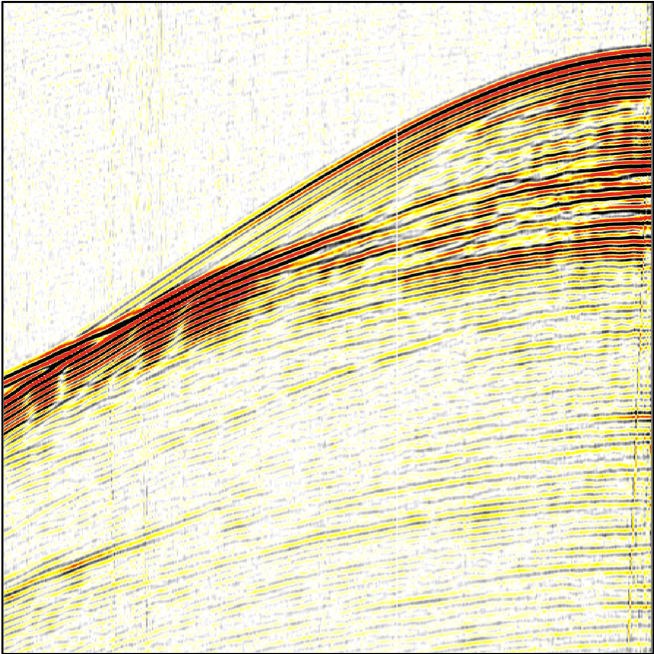 Iterate Towards the Global Minimum Solution
Initialising XWI from two different starting points emphasises the role of the uniquely-formulated adaptive cost function in widening the basin of attraction. In both scenarios, the background model is updated towards the basin of attraction of the desired loss function minimiser when driving the inversion with XWI. 
An ultimate proof-of-concept for the combined power of the optimisation toolbox- a means to test the velocity values from the inversion against the ground-truthed values at actual borehole locations. 
Velocity values at borehole location are shown in red and compared to the sonic log - a clear shift towards the logs with no bias in each respective XWI initialisation. The entire chain is performed with zero human intervention and the data remains on the cloud throughout. 
Capturing sonic log detail through refraction and deep reflection-driven misfit, keeping wells blind. 





Frequency Sweep
The panels show 6 stages of the inversion - predicted traces (left) and field recordings they are being matched against (right). The field recordings are being fed in at widening bandwidths with the lowest frequencies having lowest signal to noise. The initial match is very poor and the trace fit accuracy increases as the iterations proceed and bandwidth is widened, resulting in a convergence between the prediction and field recorded traces.
Harnessing the deepest and most-subtle data residual to drive global minimum convergence.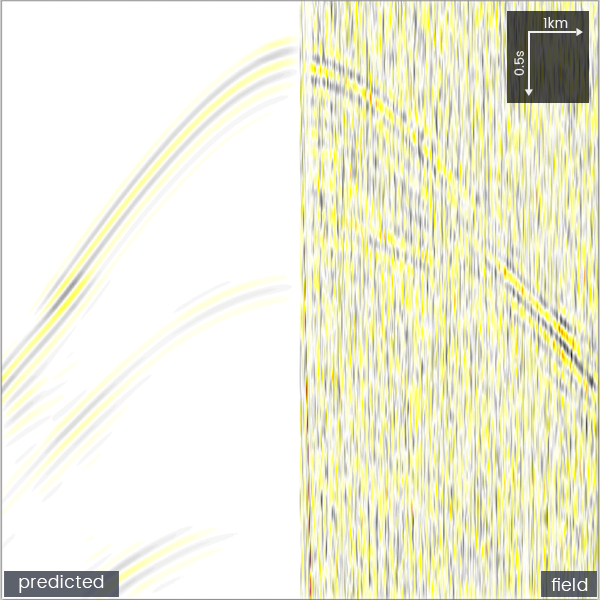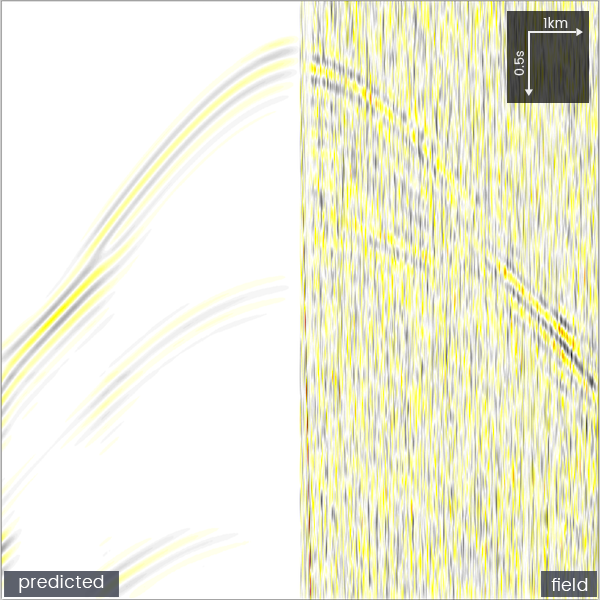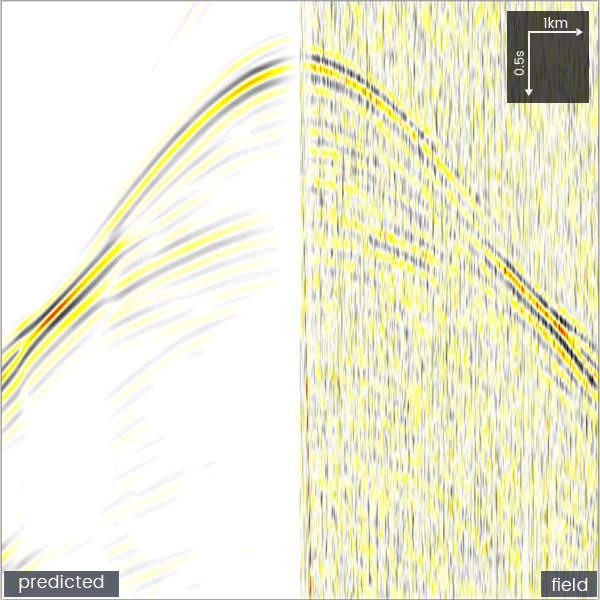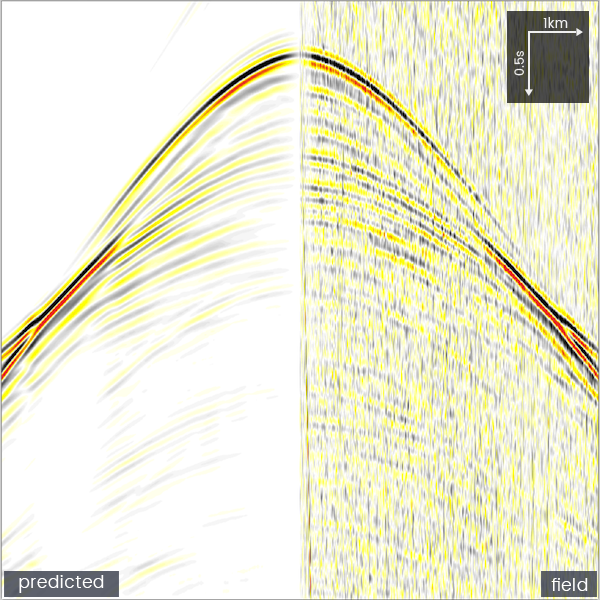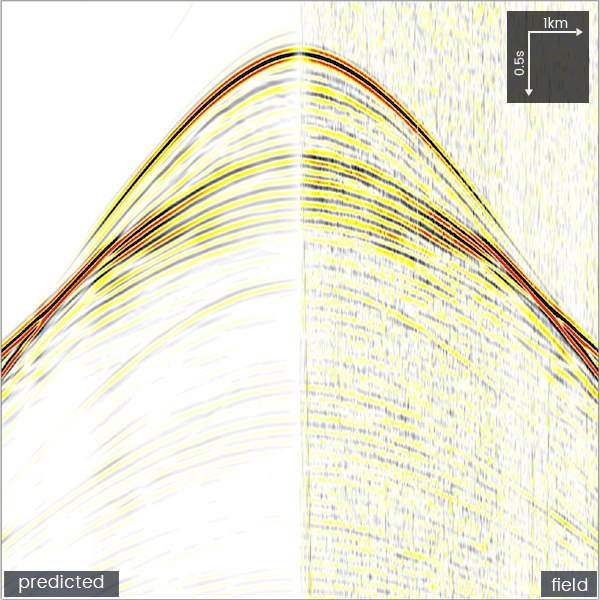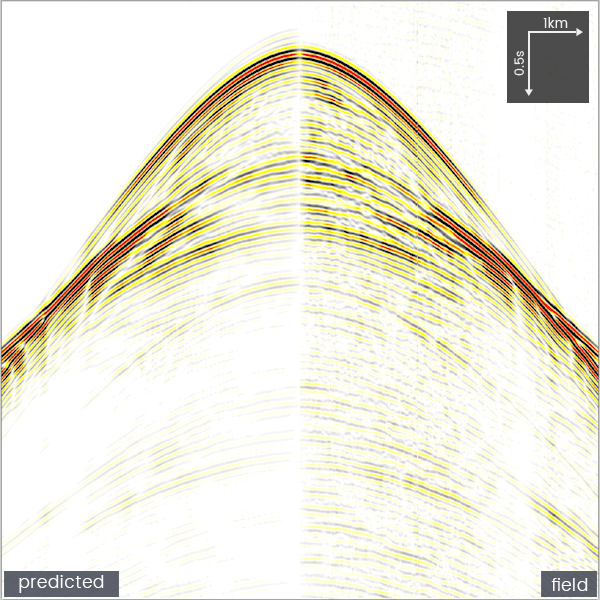 Overcoming the local minima traps 
Keeping the input data the same, running XWI in vanilla FWI mode, a spurious result is obtained. At a depth of 2.2 km, the velocity shift is in the wrong direction away from ground truth due to the effect known as cycle-skipping.


Differentiated capability
The comparison demonstrates the importance of the core algorithm. With XWI advanced cost functions, the target layer can be defined with precision. Using industry standard FWI, a misrepresentation of the subsurface is obtained with an erroneous low velocity band seen to cut across model.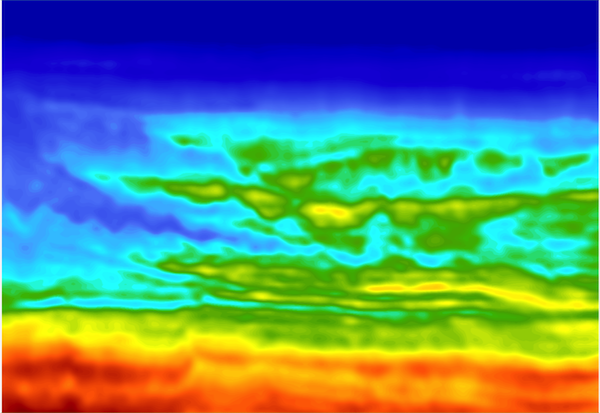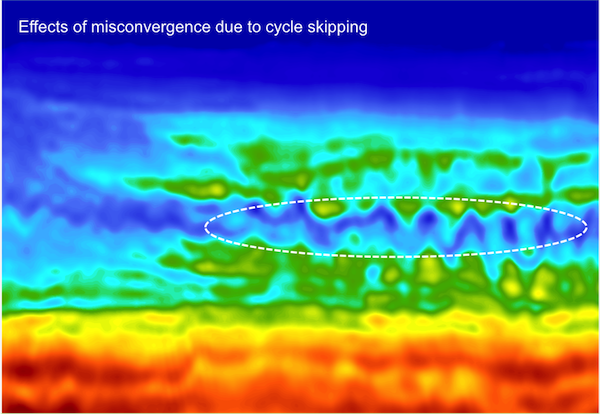 Run Full Waveform Inversion on the Cloud
Use XWITM on AWS to discover a step change in accuracy and resolution of your velocity model.